Some of My Trips to Asia
by Ben Best
This travel report was written not long after my first trip to Asia in 1989. Since that time I have been to Asia a number of times. My most thorough documentation of any trip I have taken was A Trip to China which was a trip I took in 2004, which was my third trip to China.
I visited Thailand in September 2012 to cover the A4M Conference in Bangkok, Thailand for the Life Extension Foundation. The report that was published in LIFE EXTENSION magazine is available on the LEF website (click on the link).
In October 2012 I attended the Keystone Aging and Diseases of Aging Symposium in Tokyo, Japan — also to for the purpose of writing a report for LIFE EXTENSION magazine. The photos shown in the photo gallery at the bottom were taken during my October 2012 trip.
I had been planning a trip to Asia for over a year-and-a-half. I got permission from my boss to borrow a week of vacation from 1988 so I could get 4 weeks off work in June/July 1989. I booked a tour with the same agency with which I had toured Europe and the USSR in 1987 (Club Europa). I was scheduled to leave Toronto on June 10th. The massacre in Tienanmen Square occurred on June 4th. Club Europa canceled the China portion of the trip. I decided to go anyway and spend extra time in California.
I prepared for the trip months in advance. I arranged financing and read books on the history of China, Japan and Thailand, as well as current travel books on those countries. I tried to brush-up on Mandarin (of which I had studied a year at University) and learn some Thai from a cassette I listened-to during my daily workout at the gym. I also wrote to the Libertarian International representatives in Tokyo and Hong Kong in hopes of meeting like-minded locals in those areas. I got a reply from the guy in Tokyo, who sent a list of other possible contacts.
Our tour group only spent a day in Tokyo, possibly because it is such an expensive city. On our city tour we went up Tokyo Tower (built to look like the Eiffel Tower — from melted Japanese tanks — at the end of World War II), had a too brief view of the Ginza, the Imperial Palace, etc., and then an excellent Japanese dinner (I hadn't expected to like Japanese food). The evening was free to explore the city, so I decided to call the libertarians. Japanese pay-phones use magnetic cards which you can buy or increase credit on from vending machines.
I called the main libertarian representative, but we could barely communicate — he let me know that his spoken English is far inferior to his ability to read or write English. I politely hung-up and phoned a fellow on his list who had the English name "Brian". Brian immediately identified himself as an Objectivist and agreed to meet me. Soon I was soaring through the Tokyo nightlife sitting on the back of his bicycle — which had an adventurous feel to it.
I think Brian was originally an Isreali who had lived in the US and gotten a degree from Political Science from Columbia University. He moved to Japan after marrying a Japanese woman who left him within 2 years to return to the USA. Brian was making more money teaching English in Tokyo than he could doing another job stateside and he wanted to stay.
Brian took me for a walk through Tokyo's nightlife district and we talked about Japanese politics, culture and psychology. When a Japanese would approach us and ask in English if we wanted to go into a nightclub, Brian would reply in Japanese: "Can't you speak Japanese?" He seemed to have a pet peeve about how Japanese would not speak Japanese to him if they knew any English. He said Japanese treat Caucasians as something between a child and a small animal.
Brian showed me some of Tokyo's "Love Hotels". Housing is so expensive in Tokyo, and conditions are so crowded, that lovers and even married couples are often forced to go to a Love Hotel if they want a place to have sex in privacy. These hotels are unusual in that they rent rooms by the hour rather than by the day.
Brian had been to Beijing about 6 months previous to visit some students he said were running a libertarian bookshop. He was able to communicate with them by writing characters, about 90% of which are the same for Japanese and Mandarin. The students had treated him as if he was a celebrity and he had given them the equivalent of about $400. After the Tienanmen Square Massacre, he didn't know if they were still alive.
The next morning after a visit to the Meiji Shrine, our tour group took the Bullet Train to Kyoto. It probably did go 130 mph, but it really didn't seem that fast to me. Kyoto had been the capitol of Japan for over a millenium before the Meiji Restoration of 1868 moved the capitol to Tokyo. After World War II it was about the only city that hadn't been reduced to rubble by bombers — because American art historians had pleaded successfully with the American Government not to destroy Kyoto's priceless treasures. The city has hundreds of Buddhist temples and Shinto shrines (Buddhism lost out to Shinto near the time of the Meiji Restoration).
The Nijo Castle was built with loudly "singing" (squeaking) floors and with secret passageways to foil would-be Ninja assassins. I saw quite a few temples and shrines — as well as the world's largest bronze Buddha in Nara (in the world's largest wooden building). Most of the temples had lots of school children. A group of Japanese girls in their early teens practiced their English on me. One of them read a message to me about their desire for World Peace while the rest giggled and squealed shyly and excitedly. They got me to write them a note which they would later study. They were cute and very nice.
I was interested in gardens, which the Japanese have cultivated as an art form comparable to painting in Europe. I was particularly interested in the Zen rock garden of Roanji Temple (a temple from which school children are excluded). I did not experience the profound mood of philosophic contemplation which the garden is reputed to inspire, but I did have a "Zen" experience looking at the adjacent moss garden. It was mesmerizing — I sensed so much "Zen peace" & "no-mind" that I could feel the dilemma between surrendering to the hypnotic beauty and following my restless drive to "accomplish".
In Japan, as in most foreign countries I got a lot of pleasure from seemingly simple things like walking the streets, browsing in groceries&shops, taking taxis&buses and watching local TV. The Japanese are a very warmhearted, clean, intelligent and civilized people who give me hope for the future of mankind. And they can be quite helpful, if they know any English, although they seem somewhat shy. I would experience some unnamed pleasure at being the only Caucasian in a sea of Japanese at the subway, on the street, etc.
On the plane to Thailand I met a 32-year-old British guy who said he had moved to Thailand 4 years previous with $2,000 and was now "retired". He had set-up a business sending Thai silk goods to a shop in Hawaii and let others do most of the work maintaining it. Now he lived in a beach house with a concubine and 2 other servants — at a cost of $40 per week each. He also said that there is a murder at least once a week in his neighborhood — which the police will ignore for $1,000. He said he wasn't worried because he stays out of everyone's way.
The temples in Bangkok, the Grand Palace in particular, were breathtaking. They put so much ornamentation and "jewelry" in so little space — and it goes on and on and on. It overloads the senses.
Outside the Grand Palace we were swarmed with Thai people trying to sell us stuff: postcards, embrocade, clothing, necklaces, hats, sunglasses, etc. And these people definitely did not know the meaning of the word "No". They would ask again and again and again until you physically removed yourself (and they would often follow you).
The continual pressure to buy and the incessant bargaining nearly drove me nuts after a while. I've never been subjected to so much commercial pressure in my life as I was in Thailand. A Caucasian stands-out in a crowd of Thais like a big "cash cow", and there are always plenty of Thais wanting to milk you. A small amount of money to us is a big amount of money to them.
They would usually start by asking some outrageous price. A packet of postcards could be bought for 20 baht if you had the stamina to bargain long enough. Usually they would start by asking for 50 or 80 baht, but I had one woman ask for 280. I would bargain them down to 30, but I just couldn't be bothered to continue the haggling to 20 — it means so much more to them than it does to me. (25 baht = $1)
I had no trouble getting a cab driver to spend the afternoon with me touring Bangkok for $8. I saw the Marble Temple and the world's largest gold Buddha (5 1/2 tons of gold — gleaming brightly).
Our tour group flew to Chiang Mai in Northern Thailand (Golden Triangle country) for more temples. I find it remarkable how unconcerned the Thais seemed with the commercialization of their religious shrines — on the contrary they happily milk them for all they are worth. Outdoor massage (clothes-on) beside the temples (for tourists) is common. People who foretell the future have stands in Thai temple-grounds.
In both Thailand and Japan, I was struck by how much things we call superstitious (like throwing salt over your shoulder or not walking under a ladder) is incorporated into religion. In one temple I saw Buddhist monks all holding-on to a single ribbon and chanting to a Buddha statue. I was told that the monks were praying for a long life — although they believe in neither godlike powers of the statues nor of Buddha himself. People frequently pray for "good luck" — something westerners more often seek from superstition than from a Judeo-Christian God.
We took trucks up a dirt road on an incredibly bumpy ride to a Meo village. The primitive villagers had stands set-up selling crafts and souvenirs. You could tour their make-shift, one-hut "Opium Poppy Museum" for 5 bahts. For 30 bahts you could "sneak" into an opium den and smoke opium. Growing opium is officially legal for the villagers, as long as they keep it for their own use and don't try to sell it.
We also went on an elephant ride. I paired myself with our cute Thai tour-guide. I was delighted to see she had never been on an elephant before (like New Yorkers who haven't been to the Statue of Liberty). Her excitement was a pleasure to watch.
Back in town, we were entertained with Thai dancing (which I preferred) and villager dancing. I paid $8 for a 2-hour Traditional Thai Massage (clothes-on). It involved more stretching and pressure than other massages I have experienced. The shopping at the night market in Chiang Mai was unreal. Everything seemed a bargain. Most people on my tour went a bit bonkers. Compulsive spending was the norm. I bought lots of pirated cassette tapes for $1 each — every name band or singer I could think-of was available.
We returned to Bangkok for a river cruise to the canals of Thonburi, which included a stop at a snake farm, the floating market and the Temple of the Dawn. Even moving through the water people would approach us in their canoe-like boats and try to sell us fruit. I tried to make a systematic sampling of all the exotic Thai fruits I had never heard-of before, but finally gave up. Even the familiar ones, such as mango were reputed to be far more delicious than mango from Mexico or the Caribbean.
In the Tokyu Department store (in the most modern shopping-centre in Bangkok) a guy approached me like he was a long-lost brother and told me he was the person who had stamped my passport at the airport. I couldn't say for sure whether he was or wasn't the one, but I didn't feel the gratitude he seemed to think I should be feeling. Soon he was introducing me to his sister, telling me he was going to take me home to meet their mother and making plans for me to move his whole family to North America. I was starting to feel hustled and was resenting it, so I got up and left. Almost immediately I was jumped by a couple of guys trying to sell me an expensive device which would reduce fat by electric muscle stimulation. I let them demonstrate on me for a few minutes and then made another getaway. I was reaching the point where I couldn't stand being hustled — and I came to appreciate what it must be for an attractive woman to have men trying to make advances on her all the time. 200 baht departure tax at the airport.
In Hong Kong, space is at a premium and the landing strip at the airport is notoriously short. It is common for commercial aircraft to make 2 or 3 landing attempts — particularly during monsoon season (summertime). It was raining like hell, and when our Thai Air pilot finally did touch down, there was a spontaneous collective cheer throughout the plane. I've never been so scared during an airline flight.
Our city tour included a trip to Victoria Peak, an Aberdeen sampan ride and a chance to see the world's largest floating restaurant. (Hong Kong also has the world's largest escalator, but I didn't make the effort to go see it.) I was extremely impressed by the wealth and modernness of Hong Kong, especially the downtown core — more modern-looking than Toronto. Also, I was struck by the incredible density of population. There were literally forests of apartment buildings — I've never seen such density before. Kowloon is the most densely populated area on Earth, I've heard.
Hong Kong, a city practically bereft of natural resources — a teeming mound of humanity piled high on bare rock — is a tribute to freedom and capitalism. It has less business regulation & welfarism than any country I've seen — and the contrast to the poverty of communist/socialist China is striking. The fundamental unit of Hong Kong is neither the individual nor the state — it is the family.
I managed to contact the local Libertarian International representative. He was a Chinese native of Hong Kong who had studied philosophy at London University. His range of interests was vast and we had a marvelously stimulating conversation about economics, history, philosophy, Buddhism, etc. With the Tienanmen Square Massacre less than a month old, feelings were still running high in Hong Kong and I asked him about the future. He told me that even the Communist Party of Hong Kong had condemned the Massacre. I wanted to know why Hong Kong couldn't become an independent city-state like Singapore. He said Hong Kong is dependent on mainland China for water supply and over 90% of food. He also spoke of the ethnic ties. He said most of Hong Kong residents did not want to leave — and were hoping the PRC would allow Hong Kong to be capitalist for at least 50 years after July 1, 1997, as they had agreed. He felt he and his friends would be able to escape if moves were made to establish a communist police state.
I did a fair bit of walking and riding through Hong Kong and everywhere I saw the same thing: relentless shopping and merchandising. I started to think of Hong Kong as one big shopping mall. A local cartoonist contrasted a Hong Kong couple with a London couple trying to make plans for the evening. The London couple were trying to decide between the ballet, the theatre or the art gallery. The Hong Kong couple were trying to decide between shopping for clothes, for kitchenware or for food. Even at 11pm Sunday evening the sidewalks had tables loaded with clothes and gadgets (I bought 5 $2.50 shirts, battary-run clock, hand-held fan, T-shirts, etc.).
I went to Sung Dynasty Village — a well-organized tourist spot that gives a good sampling of a period of Chinese history (people in costume engaged in crafts, period furniture, wax museum, etc.).
I soon discovered that despite restrictions against travel to China from Canada or the US, a person could go anywhere in China from Hong Kong with no problem. Since I was only in Hong Kong for a few days and was not going to try rearranging my flights or company vacation time at that late date, I decided on a one-day tour of Canton, China.
Canton, with a population of 6 million, is the fifth largest city in China — and accounts for a third of China's import revenues due to trade with Hong Kong. At least 90% of Cantonese have TVs or access to TVs, so they were able to watch the Hong Kong news, along with that of their own government. I asked our tour guide who was on the side of the government. He answered, "Nobody". Canton isn't representative of China as a whole, but the attitude still surprised me. The people remembered Mao's Cultural Revolution — the bookburning, forced collectivization, self-criticism sessions and widespread destruction — as if it were a horrible nightmare. Our guide said that too much had changed in the last 10 years — there had been too much freedom and exposure to the outside world — for China to ever go back to that kind of totalitarianism, Tienanmen Square Massacre or not.
Our tour group was taken to a kindergarden where we saw the children perform. Music was played and we danced with them. The one-child per family government policy has made children very precious.
Not long after that I had to take a shit and I discovered that the toilet was flat into the floor — meant for squatting rather than sitting. The toilet stalls didn't even have toilet paper dispensers. I wiped myself with a Hong Kong $10 bill (worth $1.30).
We were allowed to do some shopping in the experimental economic zone (which is primarily simply a labor farm for non-Chinese companies looking for cheap labor), but I wasn't in a shopping mood. I was quite struck by the hurt look a Chinese woman gave me when I declined to spend $2 for her intricate cork carving — I'm not used to commercial relations being so personal. And I didn't mean to insult the skill or hard work she put into her craft. It was actually a good deal, and I if I had it to do over, I would buy it.
We also went to the zoo — where we had a Panda Bear all to ourselves (in North America I think Panda Bears are constantly being swarmed by visitors). There are very few cars in Canton, but there is a deluge of bicycles. I peppered our tour guide with questions for most of the tour and gave him a tip at the end, although probably not enough. I also gave him postcards and money for stamps, but these were never received by the people I sent them to. I don't know whether he or the government was responsible for this delivery failure.
We returned to Hong Kong fairly late, leaving me only time to shop and pack for early departure. By the time I reached California I was a mess — 10 hours on a plane, over the International Dateline, jet lag and a debilitating flu that devestated the folks who were kind enough to be my hosts.
Tokyo street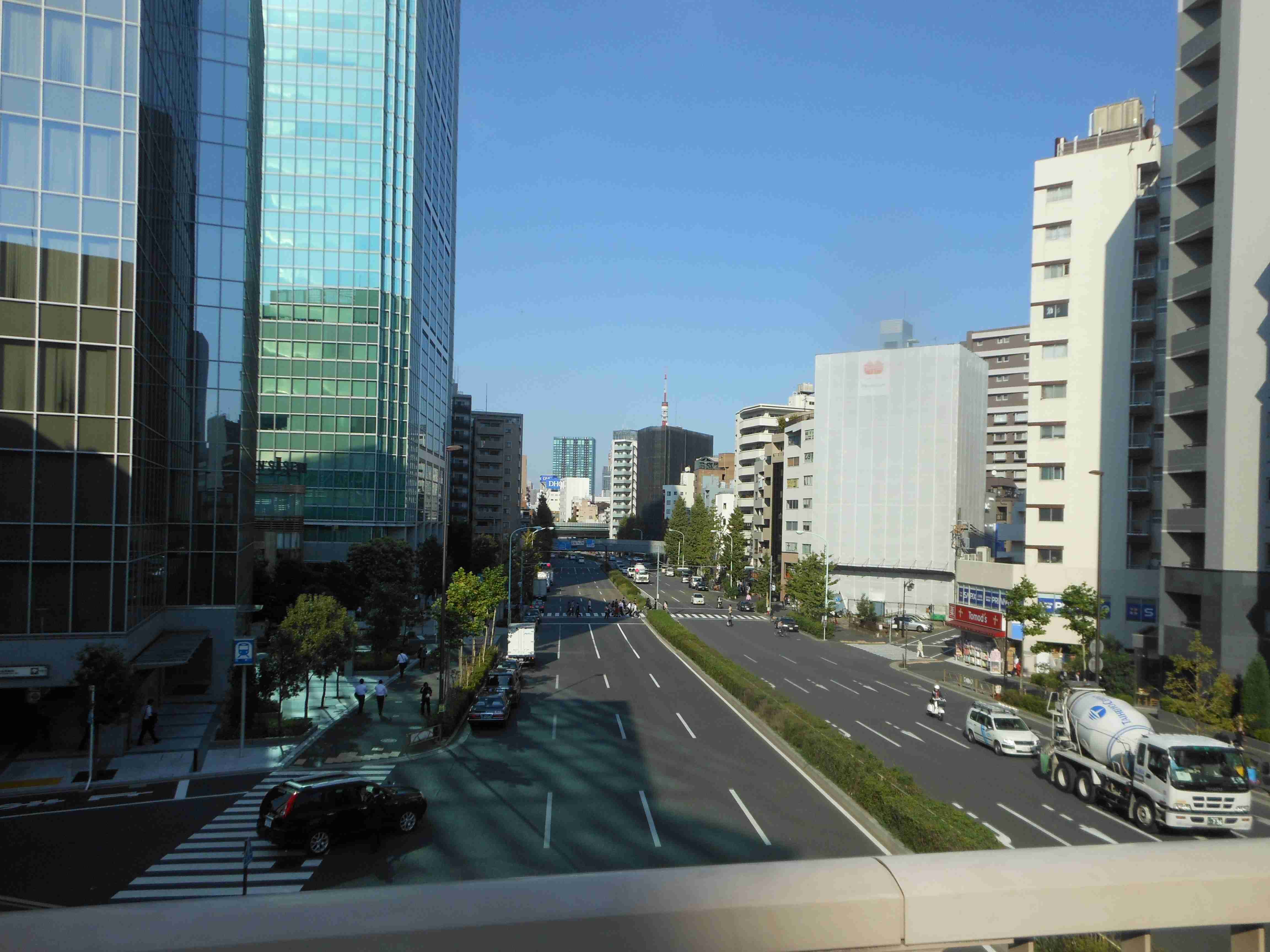 ---
Tokyo drugstore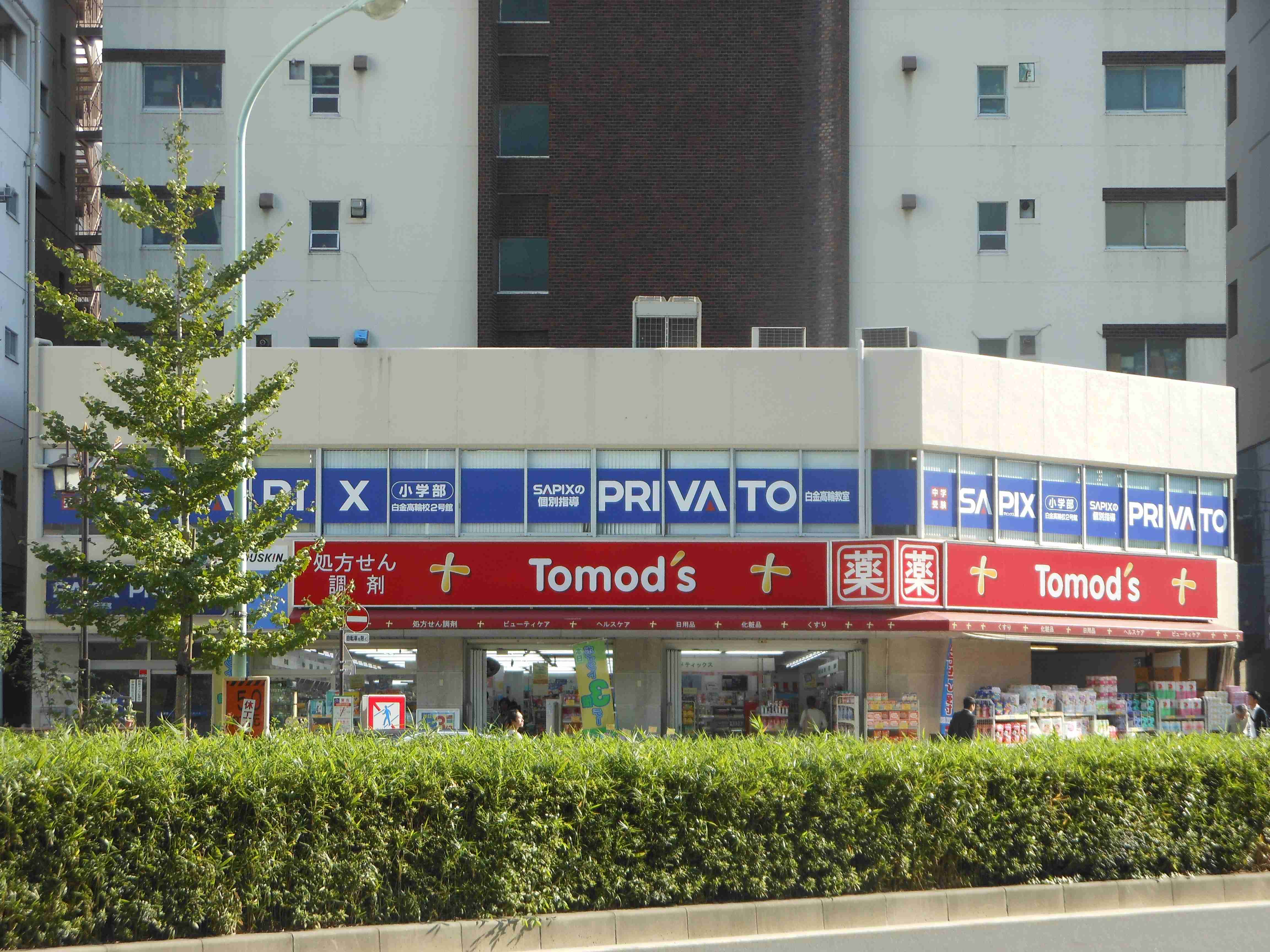 ---
Tokyo Bookstore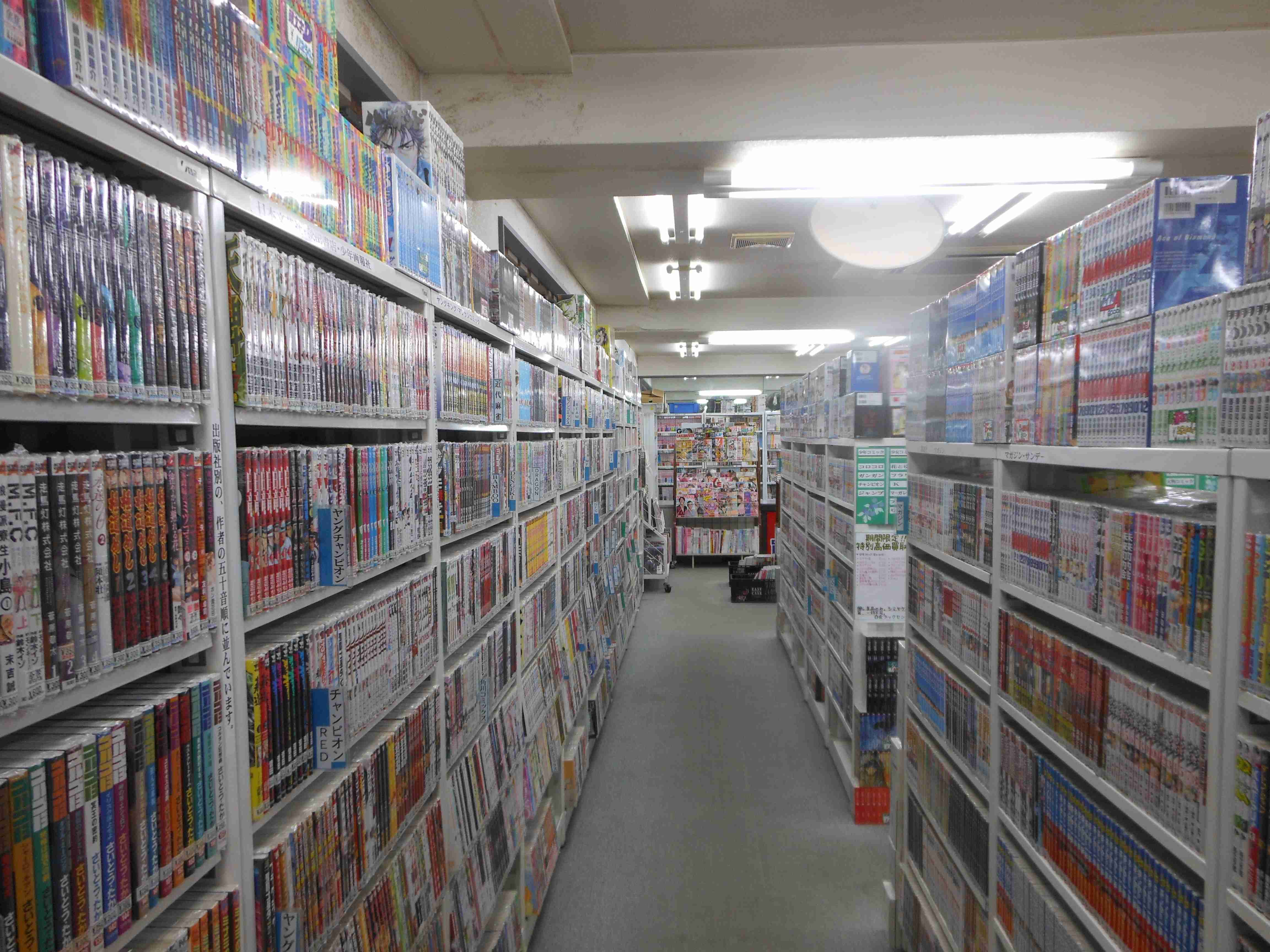 ---
Tokyo slot machines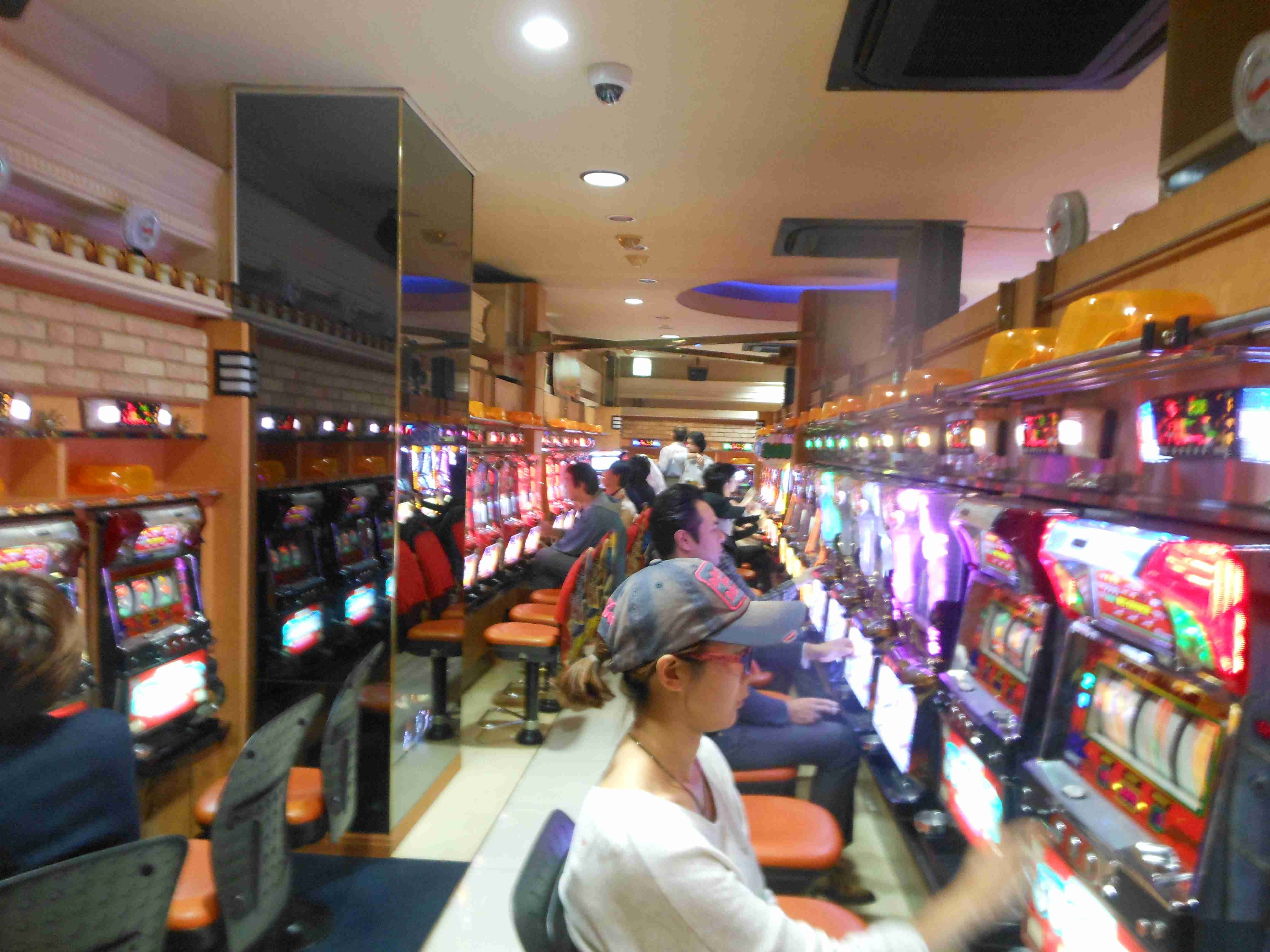 ---
Tokyo lottery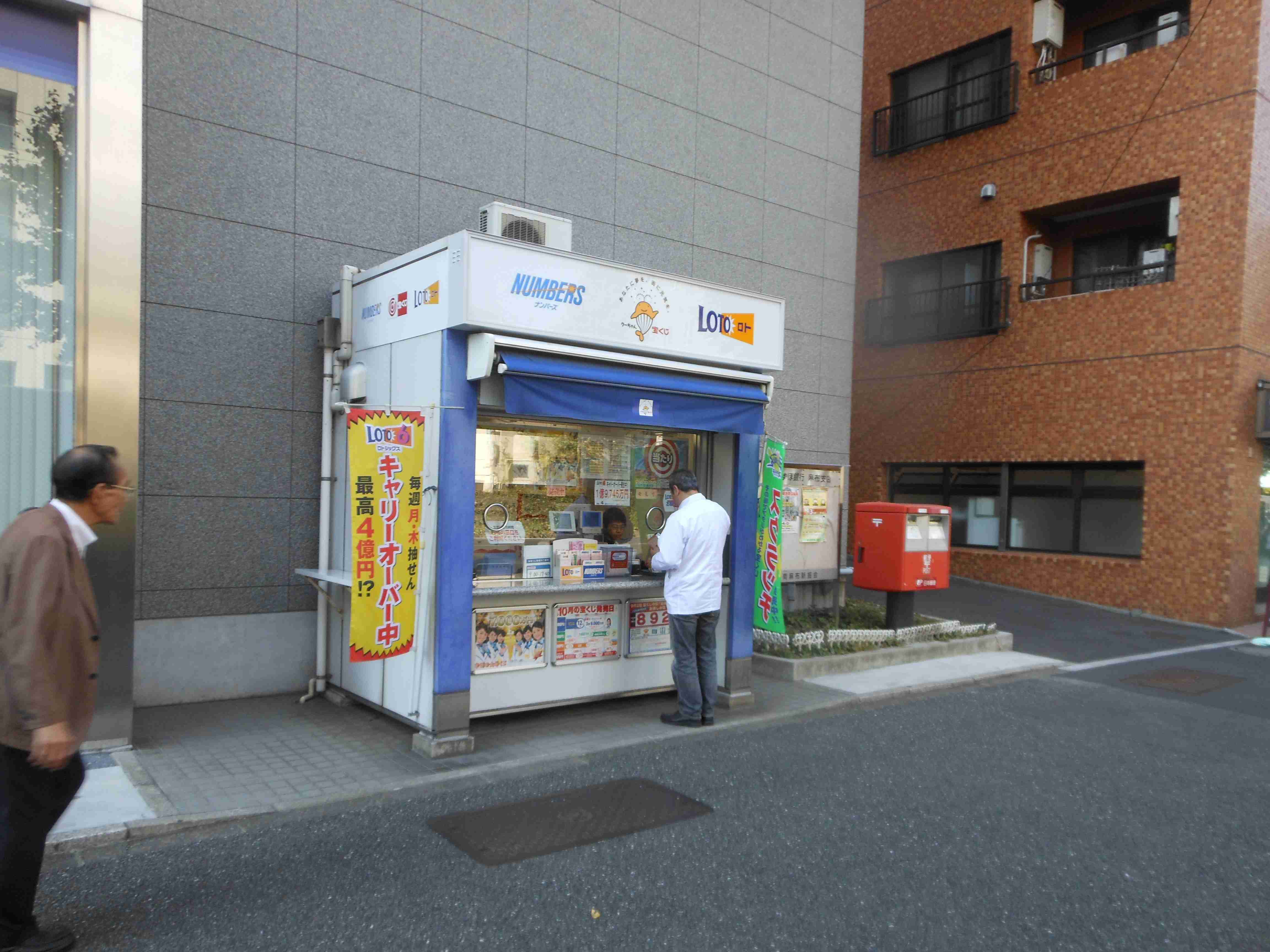 ---
---
Tokyo culture on a city street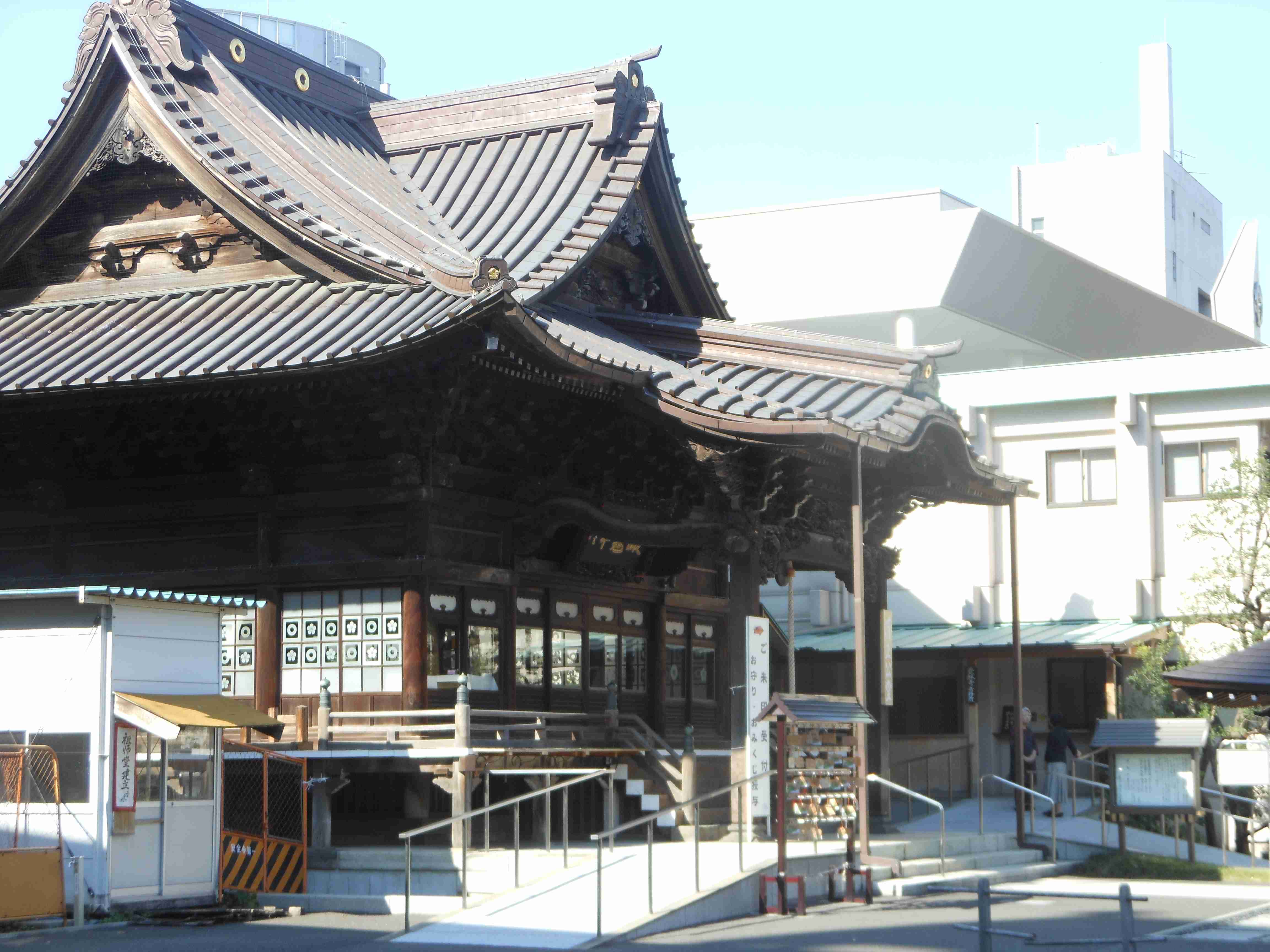 ---
Hardhats and white shirts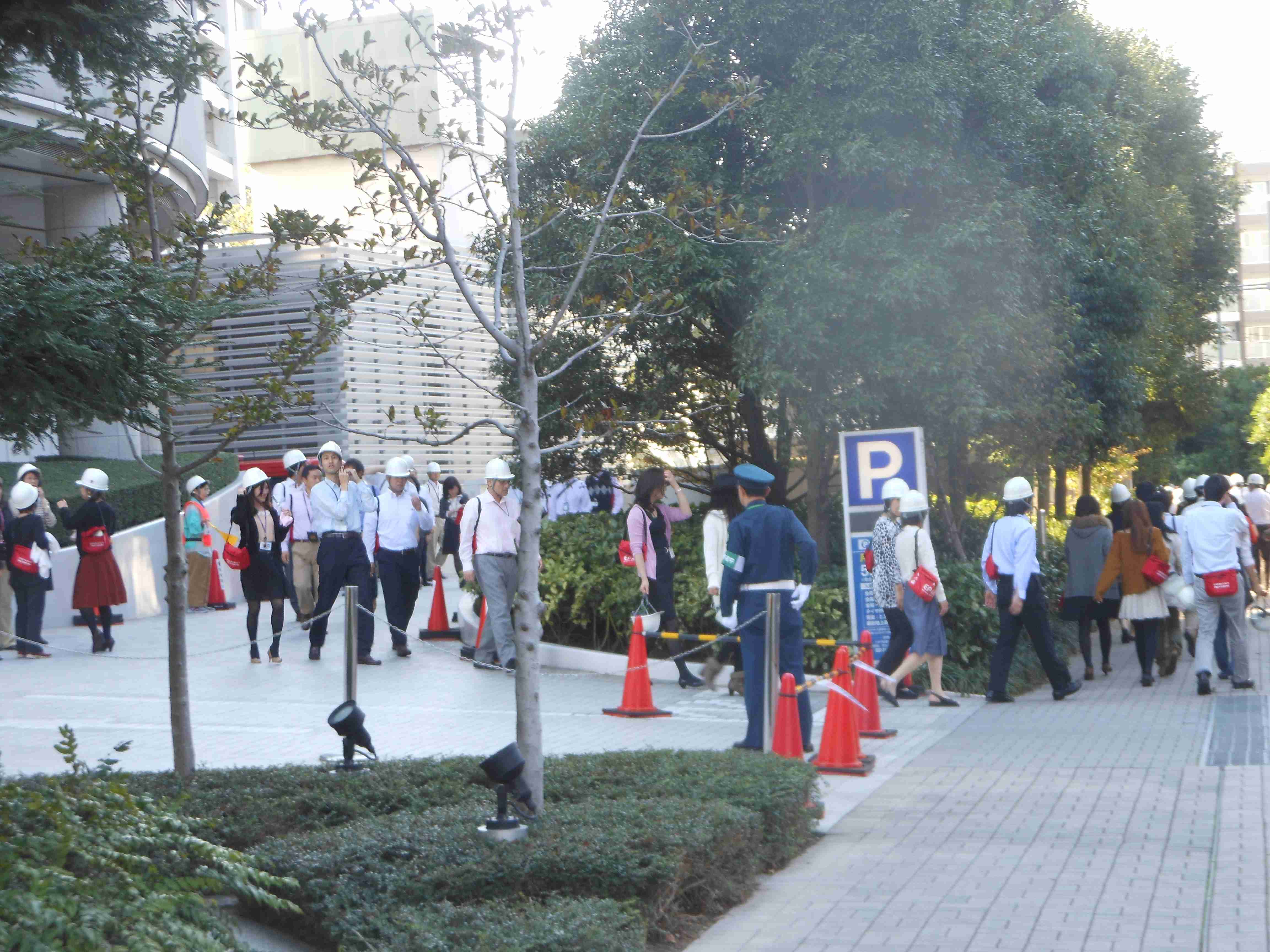 ---
My hotel toilet had numerous controls. One warmed the seat, another deodorized the toilet, and others controlled cleansing jets of water. In particular, a button labeled "Spray" would direct a jet of spray toward the anus and the button label "Bidet" (intended for women) would direct a broader spray somewhat more forward — although adjusting one's rear-end could allow either spray to do the job. Water pressure could be increased or decreased — with the highest pressure almost capable of giving an enema (with the right positioning). The "Stop" button would halt the cleansing stream. The flushing was done by a separate control located near the toilet paper. The only use for the toilet paper I could image was for drying (the cleansing by water jet was very thorough). There was no skimping on water during the flush. either. One flush provided lots of water and a a powerful flushing motion — unlike other toilets which can require two or more flushes.
The bathtub was also a tribute to Japanese engineering and generous use of water. The bathtub was as deep as any that I have seen, and a thick, clear stream of water was delivered soundlessly into the bathtub.

My hotel toilet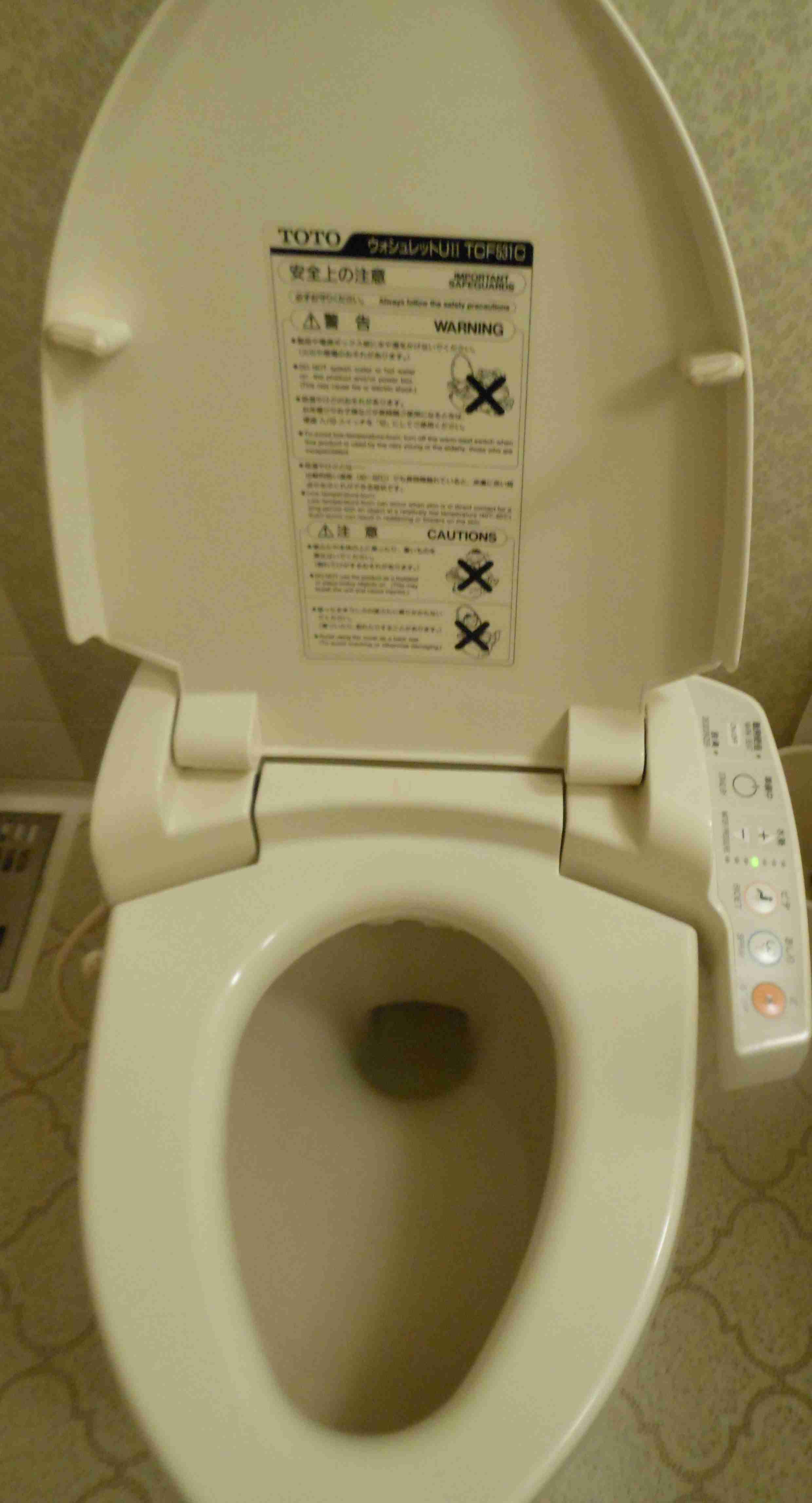 ---
Numerous toilet controls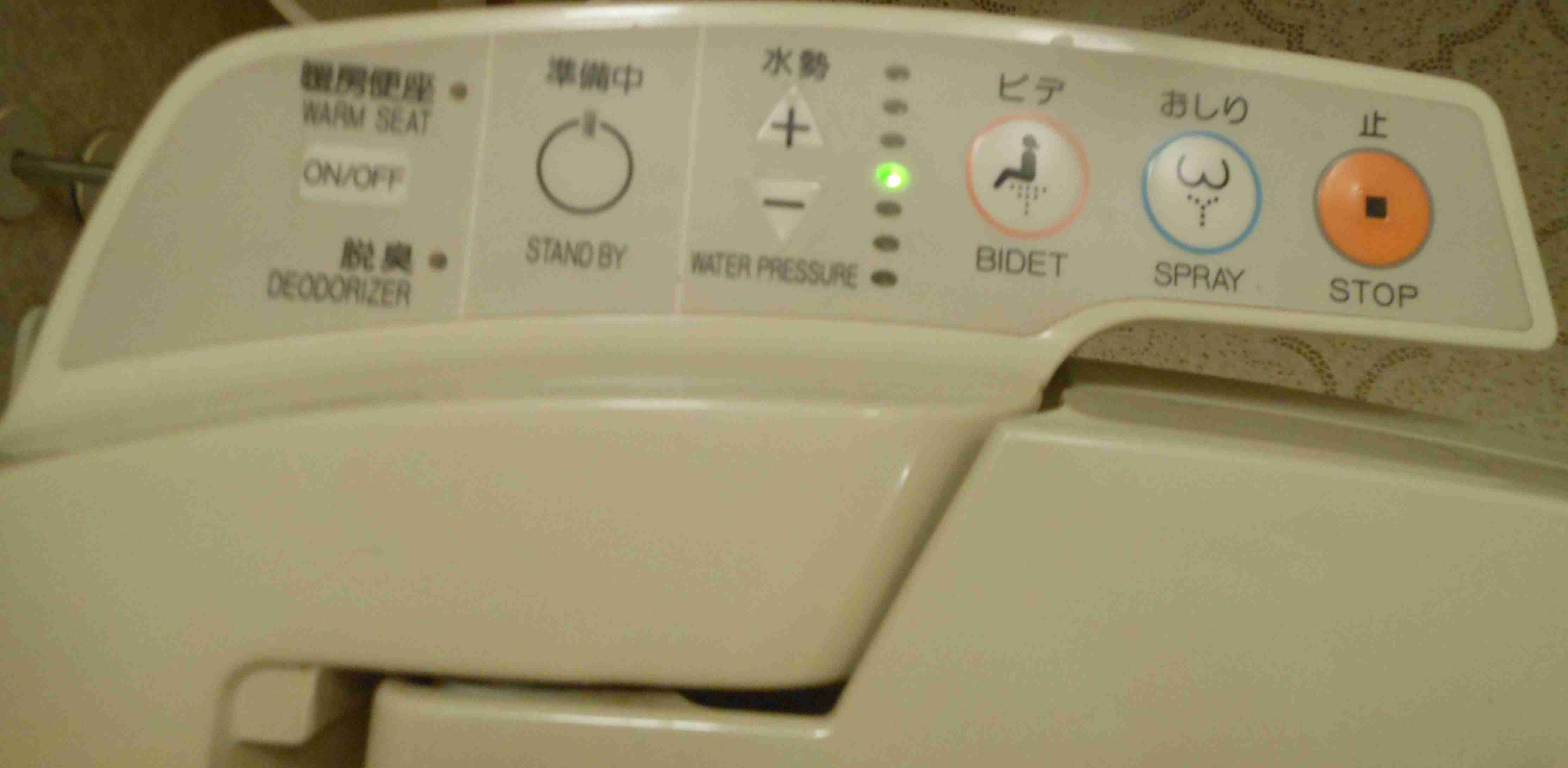 ---
The flush control sits by the toilet paper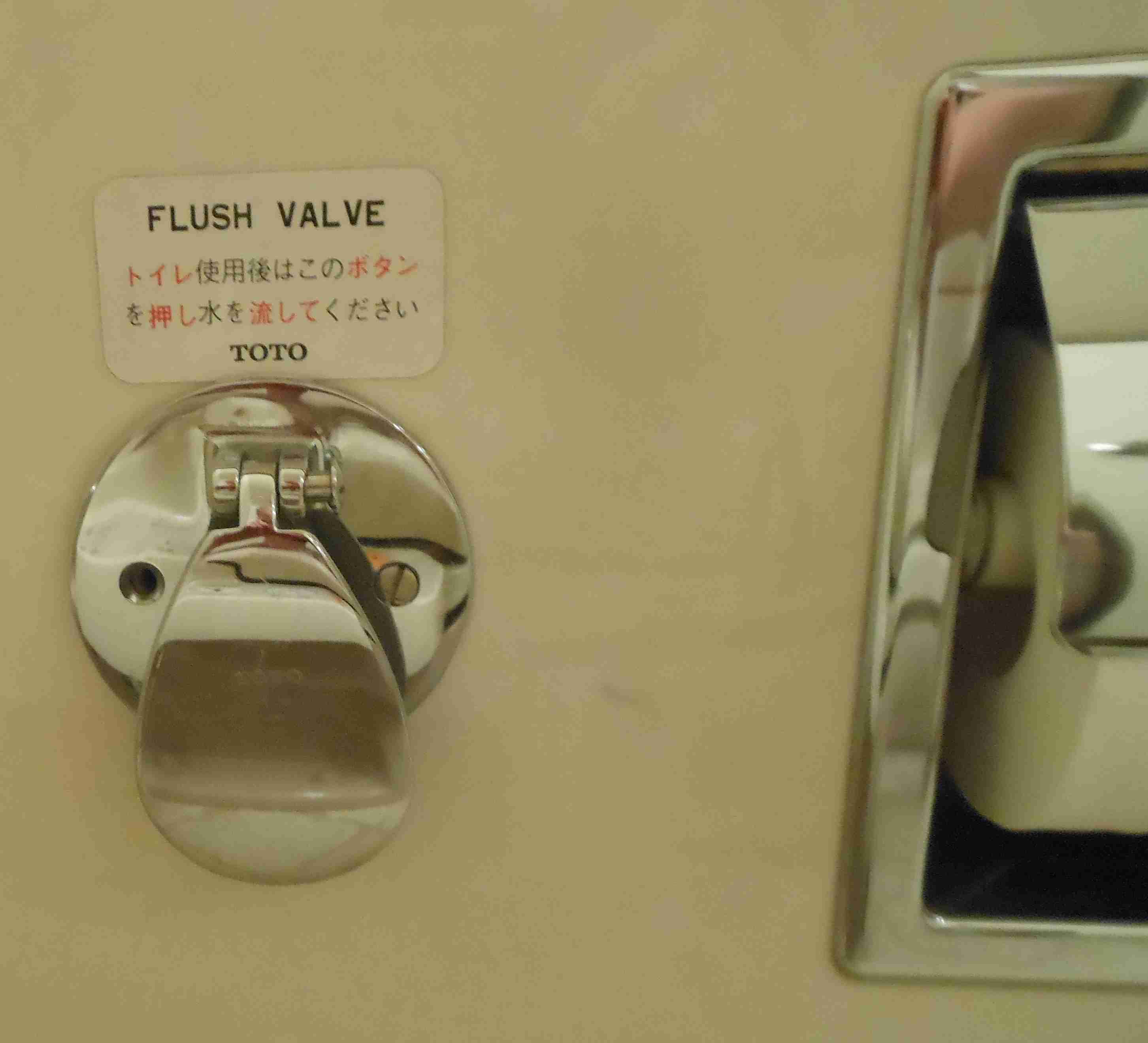 ---
The flush control sits by the toilet paper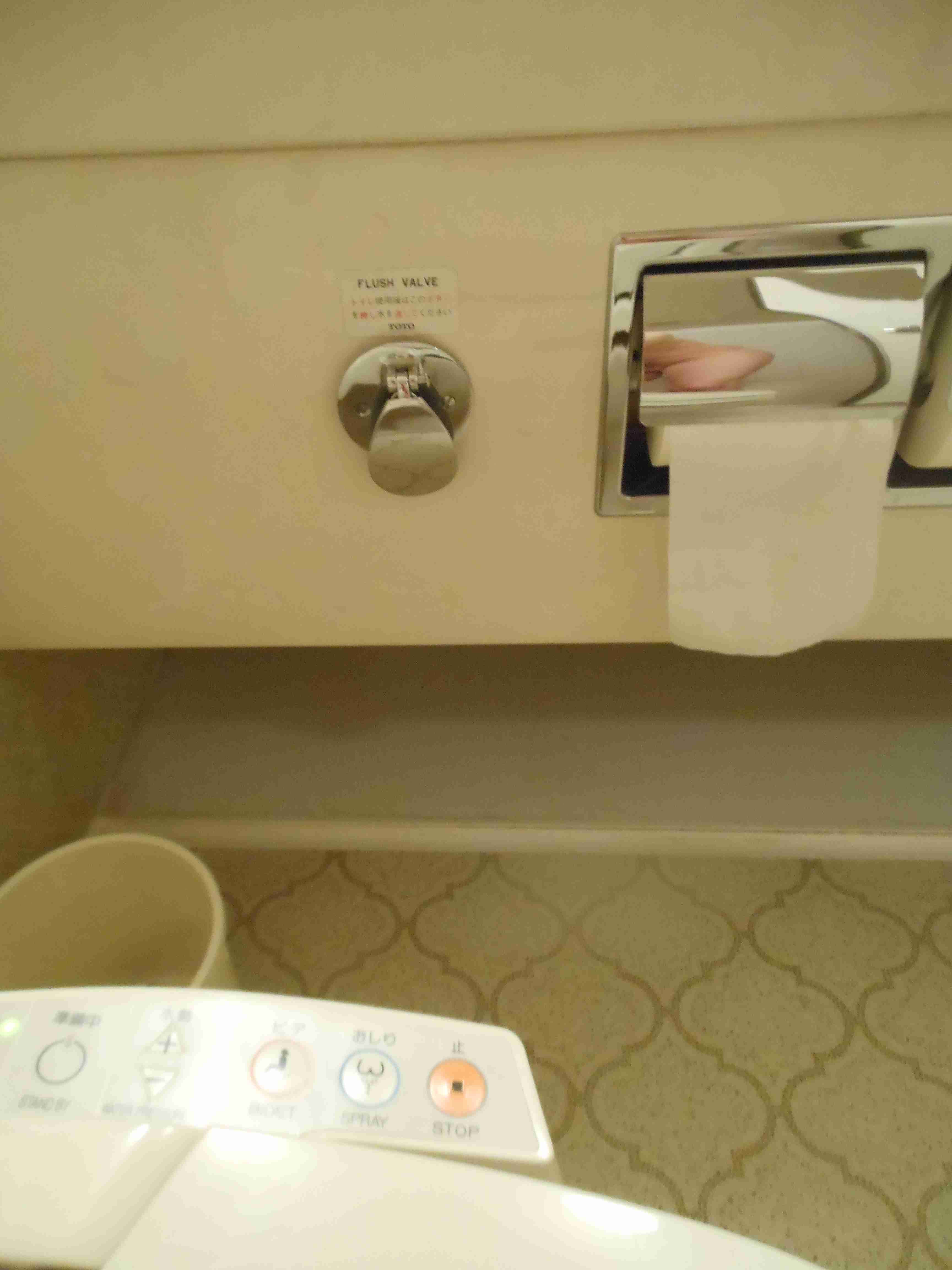 ---
"Spray" hits the anus,
"Bidet" is more up and forward,
and "Stop" stops either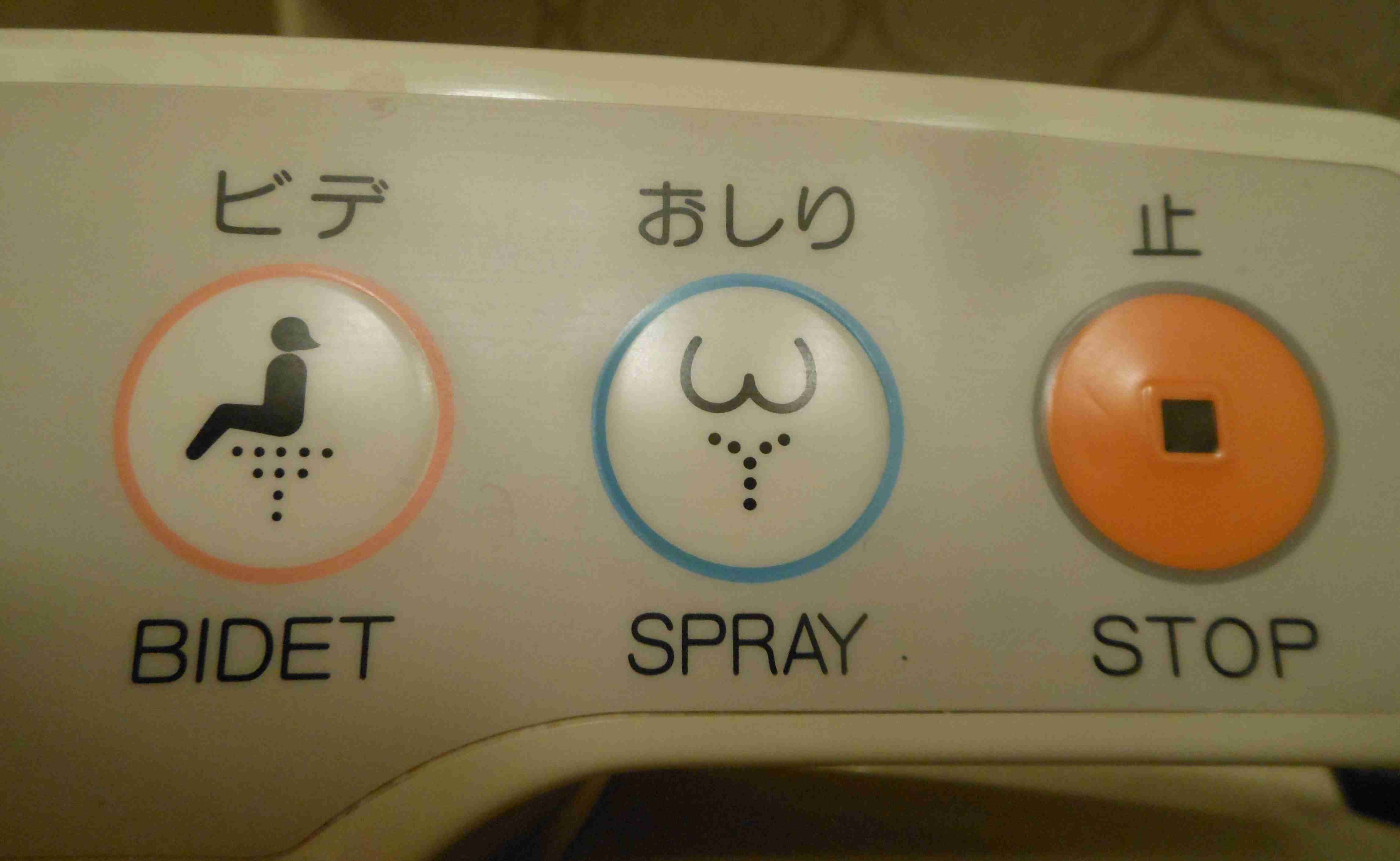 ---
"Spray"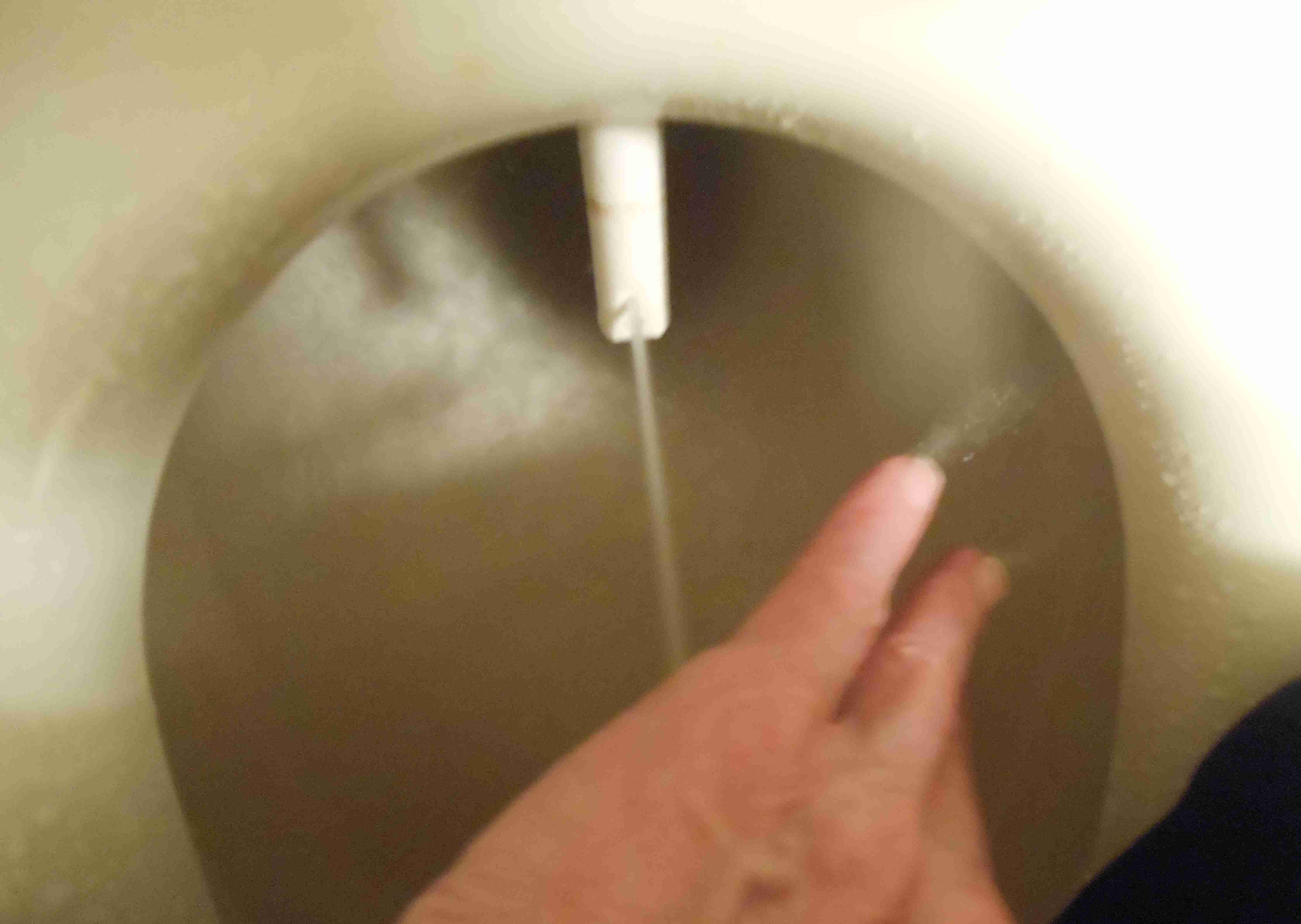 ---
"Bidet"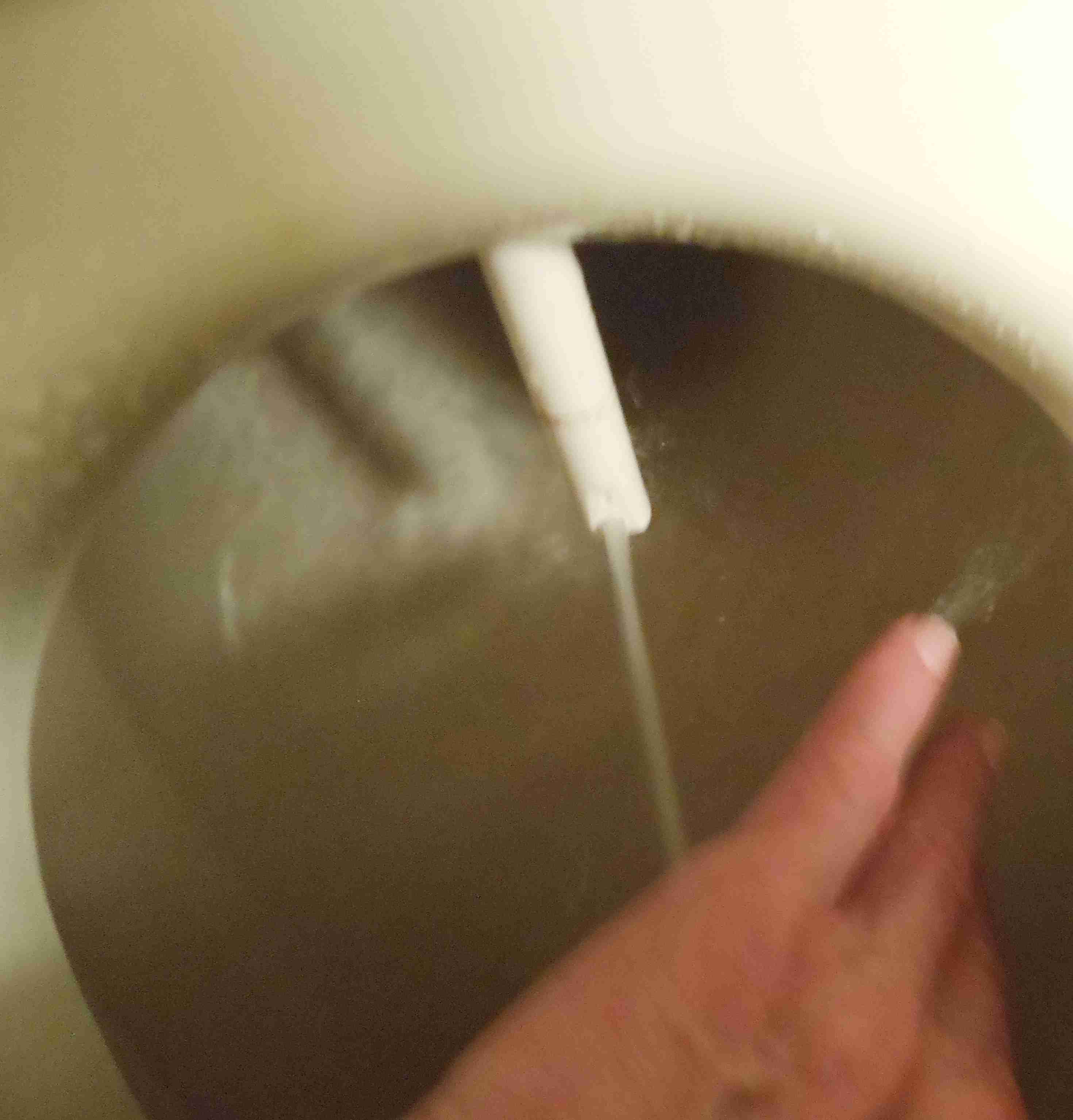 ---
Thick, clear stream of water for bathtub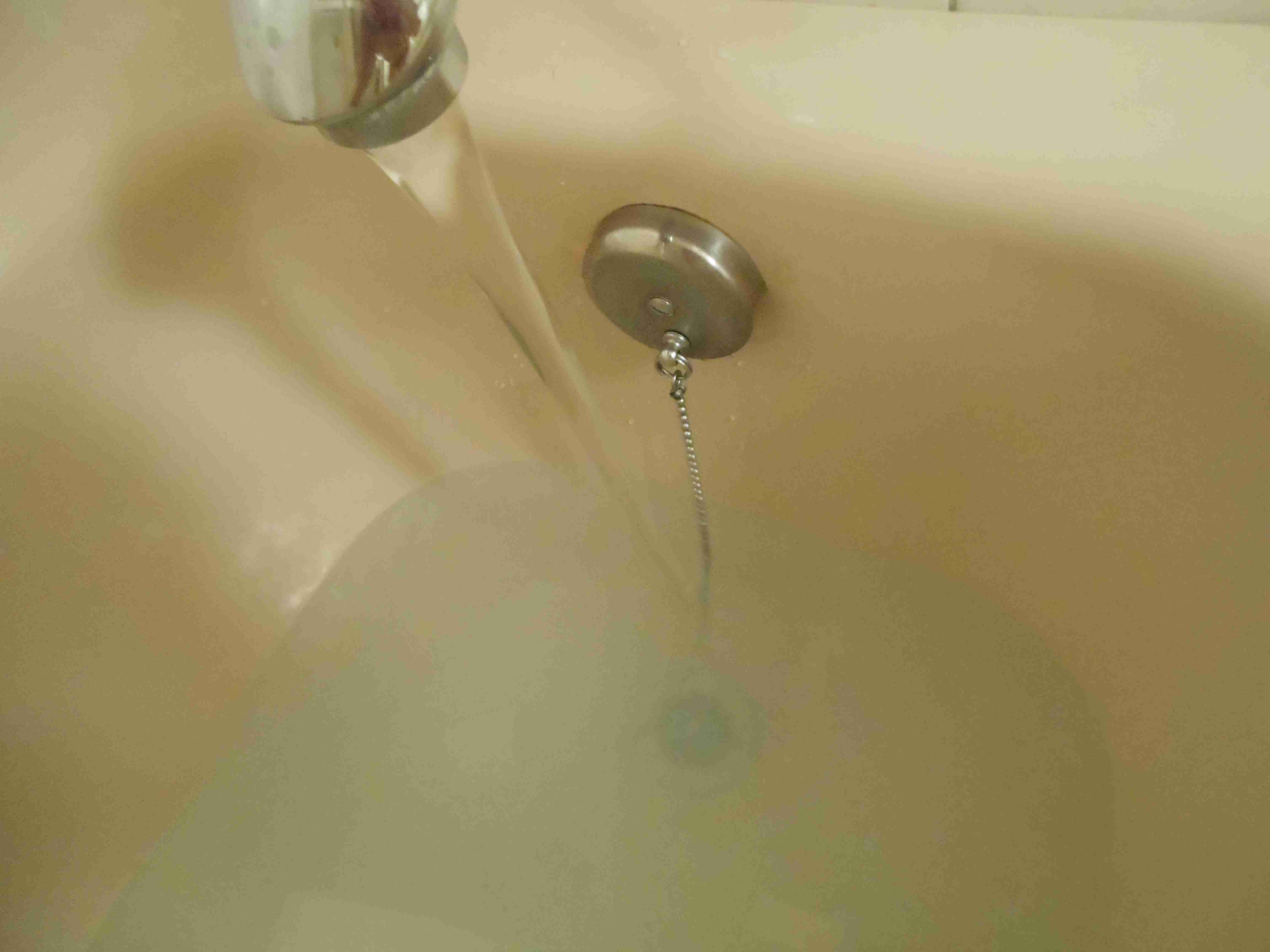 HOME PAGE